The books cover two areas. The Lake District & Cumbria is still in print, and available as a print copy only. Yorkshire went out of print some time ago, and has been republished as an e-book. It is only available as the digital edition, and is available by following the link below.
The Lake District & Cumbria in Recipes and Photographs
The book covers the lake counties of Cumberland, Westmorland and Lancashire north-of-the-sands, which are close to the former county of Cumbria. There is an emphasis on the Lake District. It contains a list of researched local recipes from the past, alongside social history and photographs of the food and the landscapes.
Sticky Toffee Pudding
Grasmere Community Gingerbread
Soft Lakeland Gingerbread
Cumberland Rum Nicky
Rum Butter
Tatie Pot
Clipping Time Pudding
Tyropatina (Roman recipe)
Border Tart
Allerdale Cake
Borrowdale Teabread
Derwentwater Cakes
Windermere Char
Rhubarb Crumble
Hiring Fair Cakes
Damson Brandy
Kendal Mint Cake
Cumberland Apple Pudding
Hawkshead Whigs
Tatie Cake
This is the third edition, available on paper
Full colour throughout, with 21 local and traditional recipes, 114 photographs of the landscape and the recipes, and a map. 32 pages in B5 landscape format (240x168mm). ISBN: 978 0955 3749 37.
Cover price of £4.50. Shipping is free within the UK, sent by Royal Mail.
For overseas orders, choose your destination from the drop down list below to see the price including shipping. If you want multiple copies on overseas orders, send your requirements in an email and we may be able to reduce the postage costs. Orders are sent by airmail standard to international destinations
---
Yorkshire: In Recipes and Photographs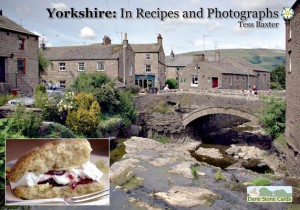 Yorkshire: In Recipes and Photographs follows the social history of Yorkshire along a journey told through food, recipes and photographs. It covers the rural areas of Yorkshire north of the M62, and includes 25 local and traditional recipes alongside 139 photographs of the landscape and recipes of Yorkshire. Various themes around the food and the history, are woven together using words and photographs.
Yorkshire pudding
Gooseberry or apple Yorkshire batter pudding
Wilfra Tart
Turf cakes
Yorkshire teacakes
Yorkshire parkin, and
Yorkshire parkins
Yorkshire gingerbread
Yorkshire teabread
Yorkshire spice loaf
Scripture cake
Scarborough pudding
Apple Fritters
York Ham
Almond cheesecakes
Yorkshire curd tarts
Oatcakes
Yorkshire scones
York butter biscuits
Yorkshire mint pasty
Rhubarb crumble
West Riding pudding
This is the digital second edition, available as a digital download from Payhip. The print edition is no longer available.
---
Sales from this website
Payment for orders placed on this website, or by Payhip, are processed by Paypal. You do not need to have a Paypal account, and you can use most debit or credit cards.
Trade enquiries
We welcome enquiries from Retailers and Wholesalers. Just send us an email and we will get in touch with you about our trade terms.