The Lake District & Cumbria in Recipes and Photographs
See more pages and list of recipes
Covers the present county of Cumbria and the old lake counties of Cumberland, Westmorland and Lancashire north-of-the-sands, with an emphasis on the Lake District.
Includes the Great British Bake Off 'forgotten' recipe, Cumberland Rum Nicky both on the cover and on an inside page.
Third edition. 32 pages, full colour throughout, 21 local and traditional recipes, 114 photographs of the landscape and the recipes, and a map. B5 landscape format (240x168mm). ISBN: 978 0955 3749 37.
Cover price of £4.50.
We are no longer charging postage to addresses in the UK!
Choose your destination from the drop down list below to see the price including shipping. If you want multiple copies on overseas orders, send your requirements in an email and we may be able to reduce the postage costs.
Orders are sent UK first class post or International airmail standard.
Payment for orders placed on this site are processed by Paypal. You do not need to have a Paypal account, and you can use most debit or credit cards.
Alternative ways to buy
Available from your local bookshop – take the ISBN number and they will be able to find the book and order it straight away.
The book is also available through Amazon. The order is still fulfilled directly by us. However Amazon's fees are now very high and this is reflected in a higher purchase price through Amazon.
---
Yorkshire: In Recipes and Photographs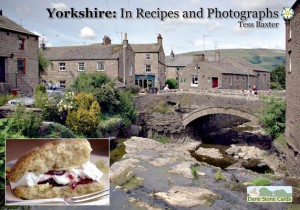 ---
Trade enquiries
We welcome enquiries from Retailers and Wholesalers. Just send us an email and we will get in touch with you about our trade terms.